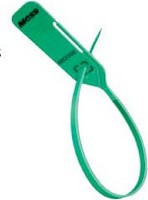 Smooth Grips
Polypropylene
Smooth strap allows easy application. Metal insert provides a higher level of security. Side tear-off for easy removal by hand. Stocked with unique seriál number.
rekv. nummer
Tie Size (mm)
Color
Mængde i pakken
pris/emballage / stk.
Pris pr. stk.
Længde
Bredde
Tykkelse
SECURE-1501
200
5,4
2,0
Green
1000 pc
4,2 DKK
7 DKK
SECURE-1502
250
5,4
2,0
Yellow
1000 pc
4,5 DKK
7,4 DKK
SECURE-1503
300
5,4
2,0
Red
1000 pc
4,8 DKK
8 DKK

Prices are without VAT. If specified order number, please, it will add it to the selected type of goods. We will be glad to send you any quantity. In case of large subscriptions, please contact us.